© Shipunov A.B. Systema Angiospermarum [Electronic resource]. 1991—onwards.
Mode of access: http://herba.msu.ru/shipunov/ang/ang-en.htm
The classification of flowering plants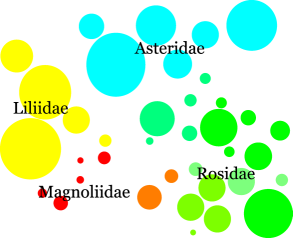 Current version (plus families of tracheophytes):
Previous versions:
---
"Systema Angiospermarum" was the first classification of flowering plants which acquired molecular data, even before APGI. At the same time, it tried to inherit as much as possible from traditional classifications.
Basic ideas:
It is synthetic and tries to consider all data from all fields of science. In addition, since I am the sole author of this classification, I always keep it concordant and up-to-date.
It is fully hierarchical, with ranks from family to class including suborders, orders and superorders; the order of groups is also significant. It is easy therefore to convert it into tree and back.
Taxa are usually understood in the most broad sense, therefore they are easy to learn and easy to use.
I use traditional approach which means that paraphyletic taxa are widely (but not elsewhere) accepted.

Further explanation needs here. I think that acception of paraphyly is the feature of taxonomy as expert science. Many authors (Brummit, 2003; Grant, 2003; Rieppel, 2005) argued for paraphyly. The objections are often restricted to the fact that it is hard to take the description of paraphyly. However, consistent description is possible. I define paraphyletic taxa as taxa that include all common ancestors of given subgroups, but only some descendants of them. In his case, holophyletic taxa is the taxa which include all common ancestors and all descendants; and polyphyletic taxa include only some ancestors and some descendants.
I accept paraphyletic taxa in following cases:

When phylogenetic trees are comb-like. Then, selected neighbor branches are recognized as one taxon -- the good example is Amborellaceae/Nymphaeaceae grade/clade.
When the acceptance of paraphyletic taxa helps to communicate and to understand the diversity better (Pan is not Homo, Aves are not Reptilia, Insecta are not Crustacea etc.).
When the "ancestral diversity" exists: one largely indistinct group of subtaxa and one to several much more distinctive groups (like my Liliales and Arecales). This is the least feasible variant, because here is the biggest field for the speculations. But if the "ancestral" indistinct group and recognized distinct groups are supported morphologically, and at the same time all other (e.g., holophyletic) groupings do not have the good morphological support, this variant is acceptable.



Classification uses internal features: "centrality", "marginality" ("sedis mutabilis", "sed.m."), "fragility" and "adhesiveness" (both are "status mutabilis", "stat.m.") The most unstable taxa marked as "incertae sedis", or "i.s."
The order of arrangement ("ordination") reflects the similarities between groups. This is why I begin from Zingiberales (see also the diagram).
---
You are very welcome to send comments to:
dactylorhiza@gmail.com
Back